You can visit our wine cellars by appointment, in compliance with the new Covid-19 protocols envisaged by the National Association of Wine Cities. Our staff will take you on a journey that starts from the history of the estate and continues to the barrel cellars, where Vino Nobile di Montepulciano rests before it finds its way to tables all over the world. The visit will end with a tasting of our wines to delight your palate.
Come and see what it's like to be part of our world!
INFORMATION
Visits are available for individuals and groups of up to 50 people, to be booked at least 48 hours in advance. For larger groups, we require more advance notice in order to carry out a feasibility check. There is one free ticket every 20 people.
Guides are available not only in Italian, but also in English, German and French.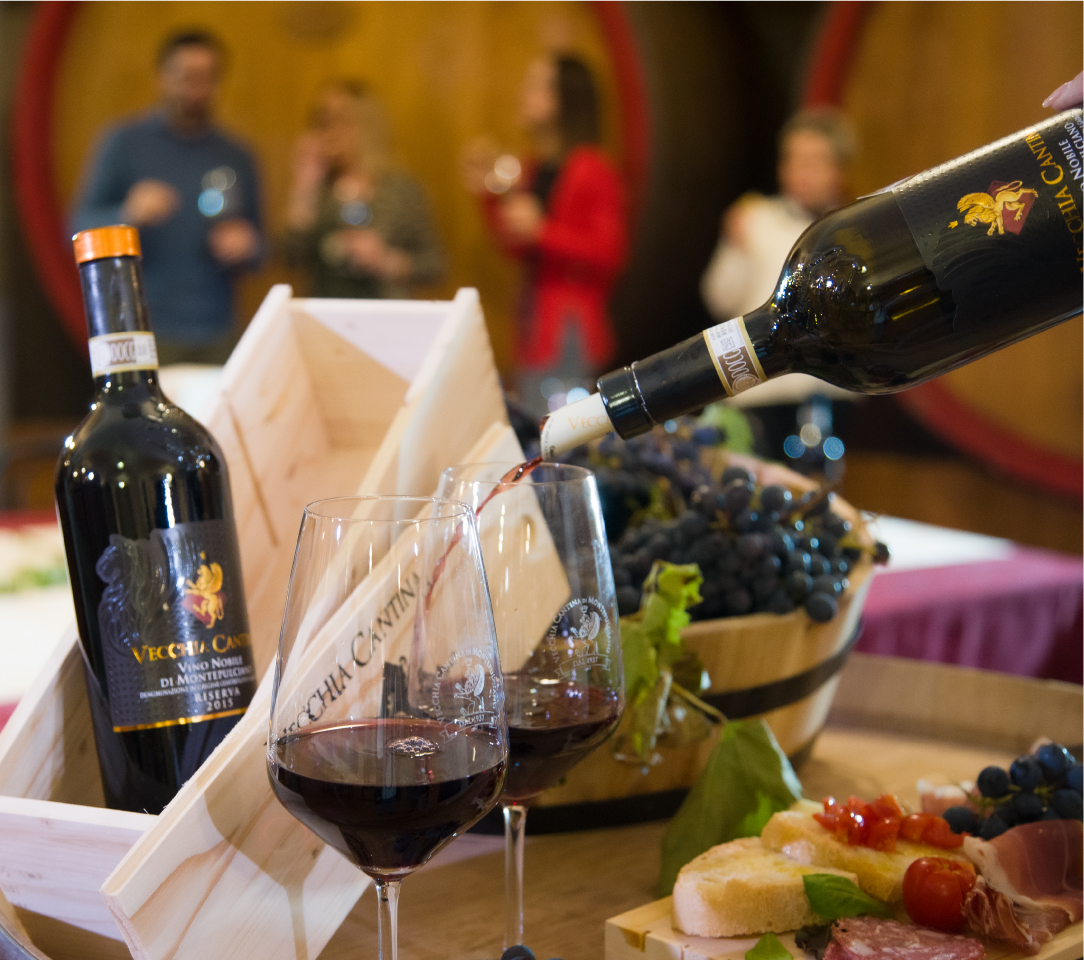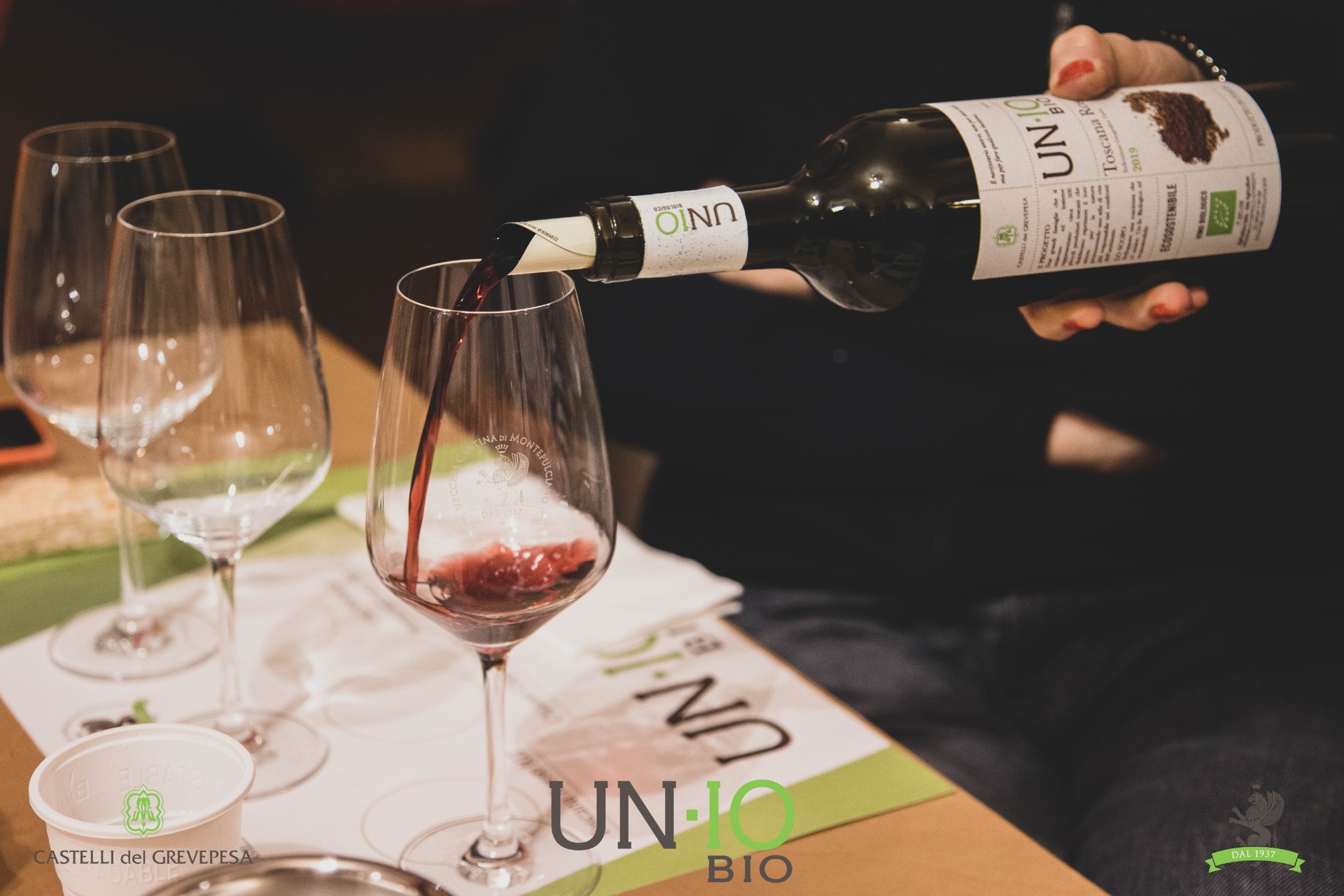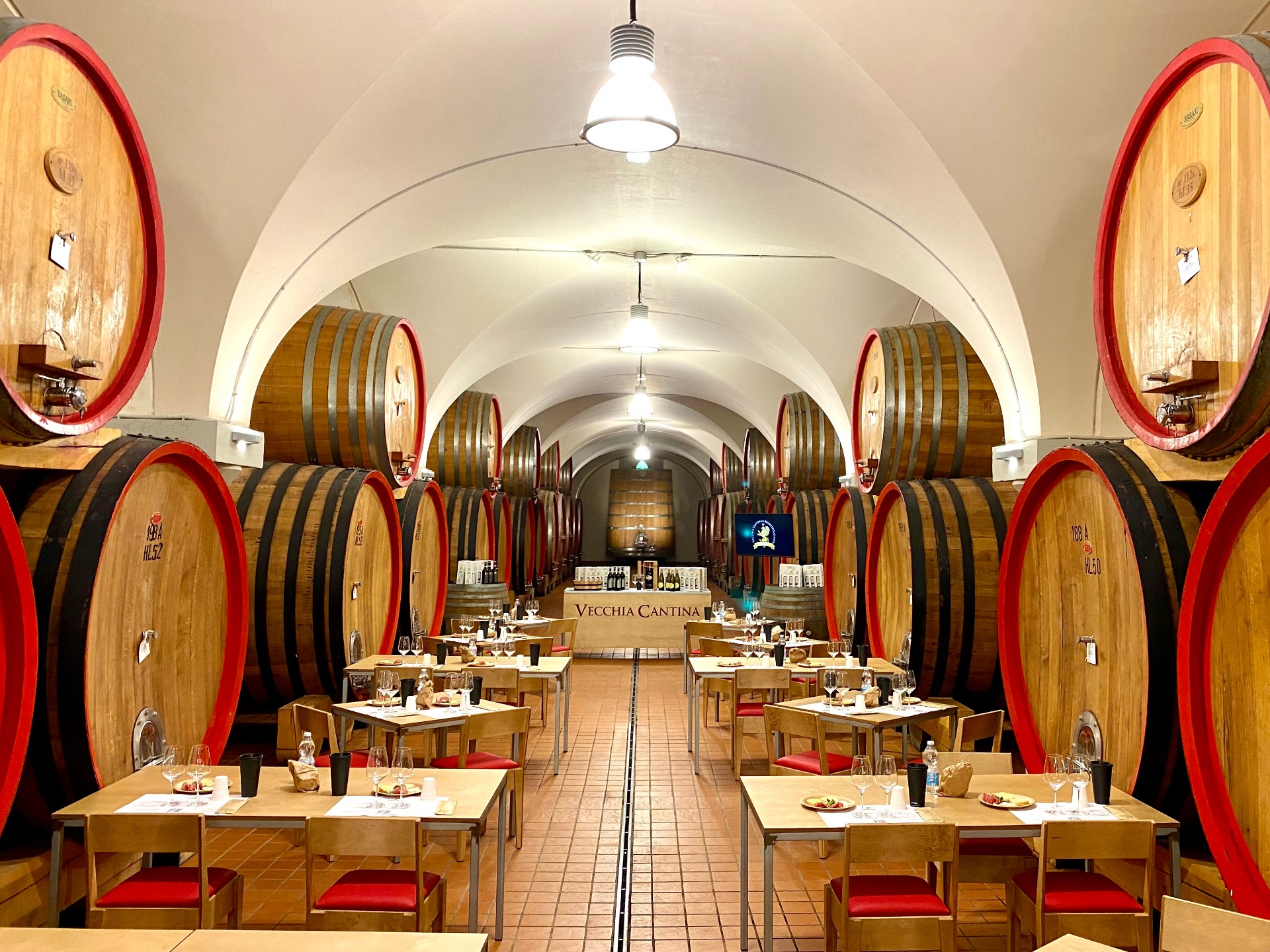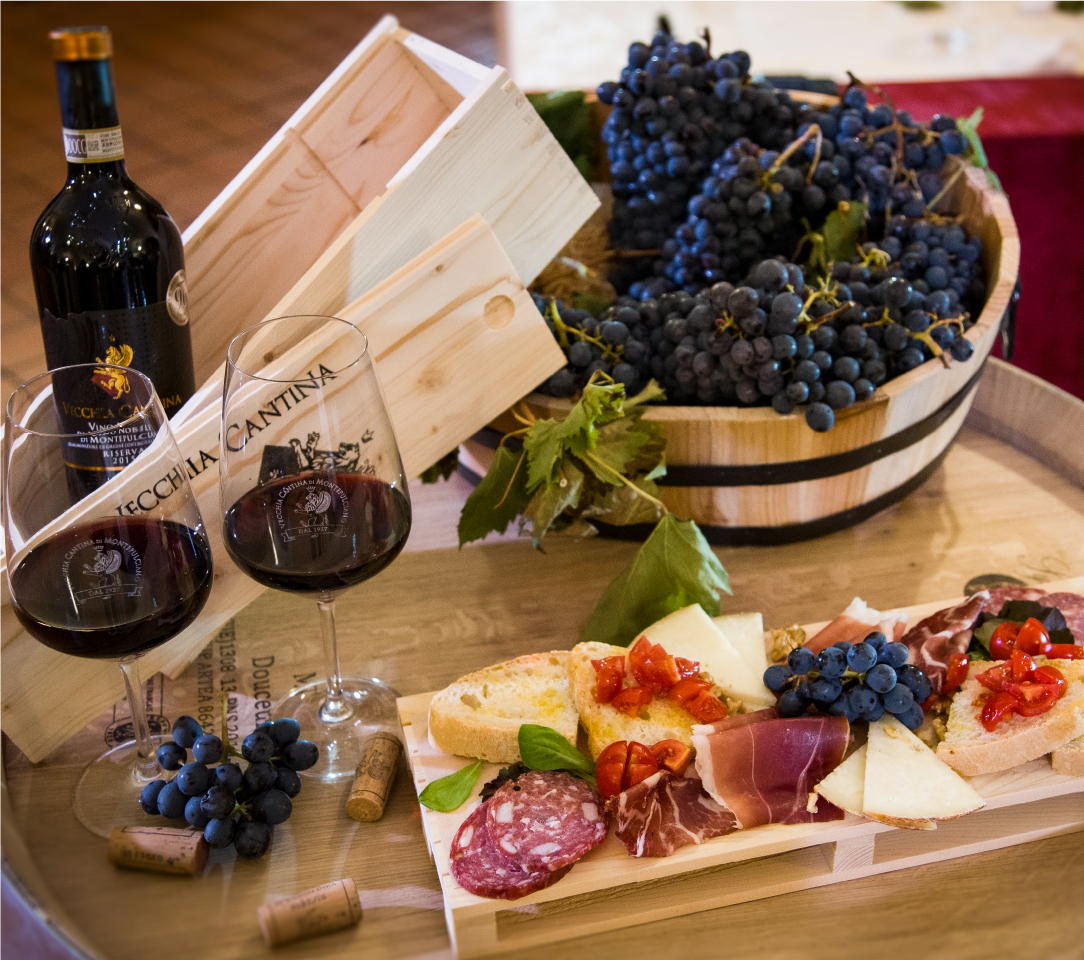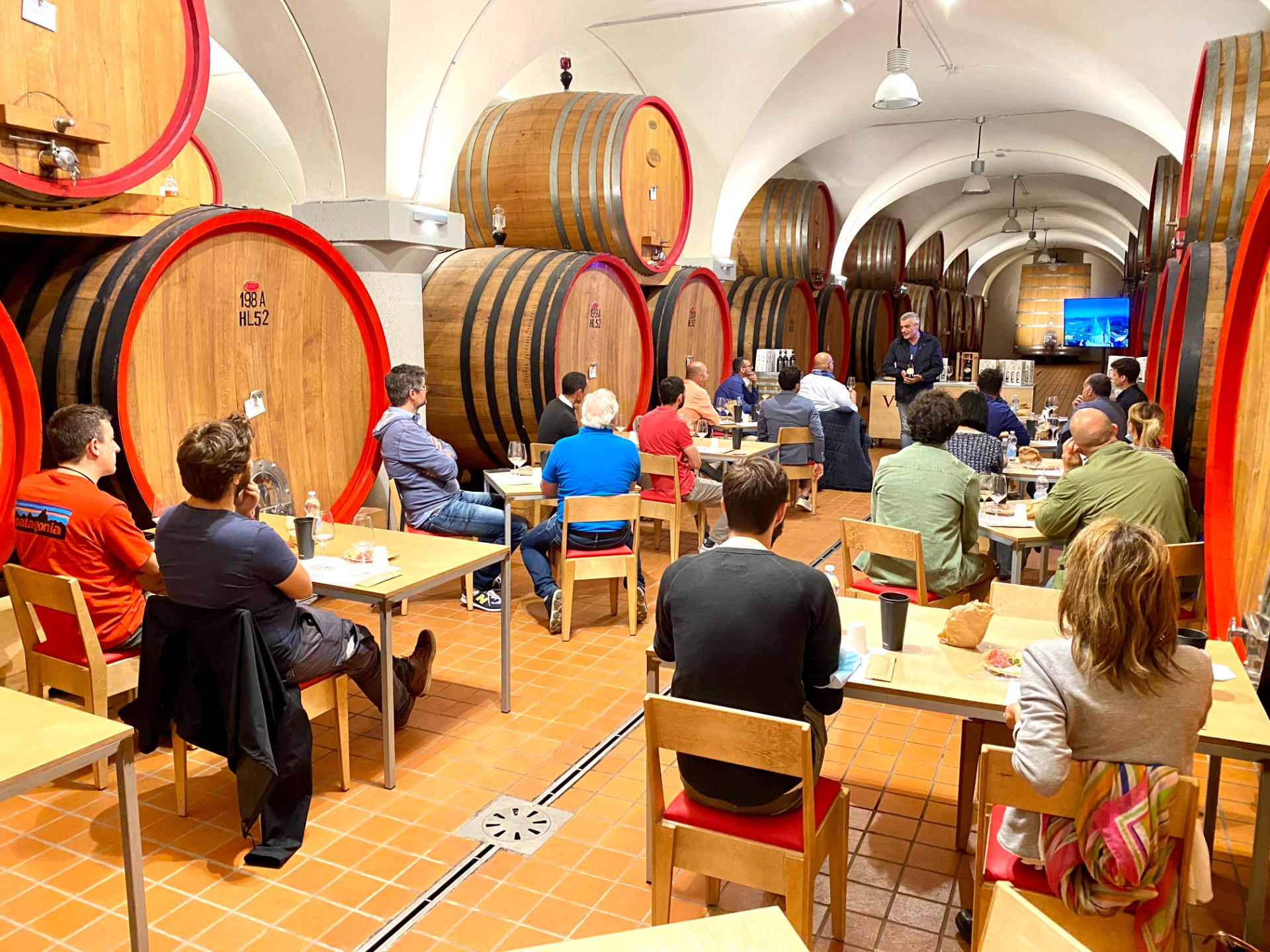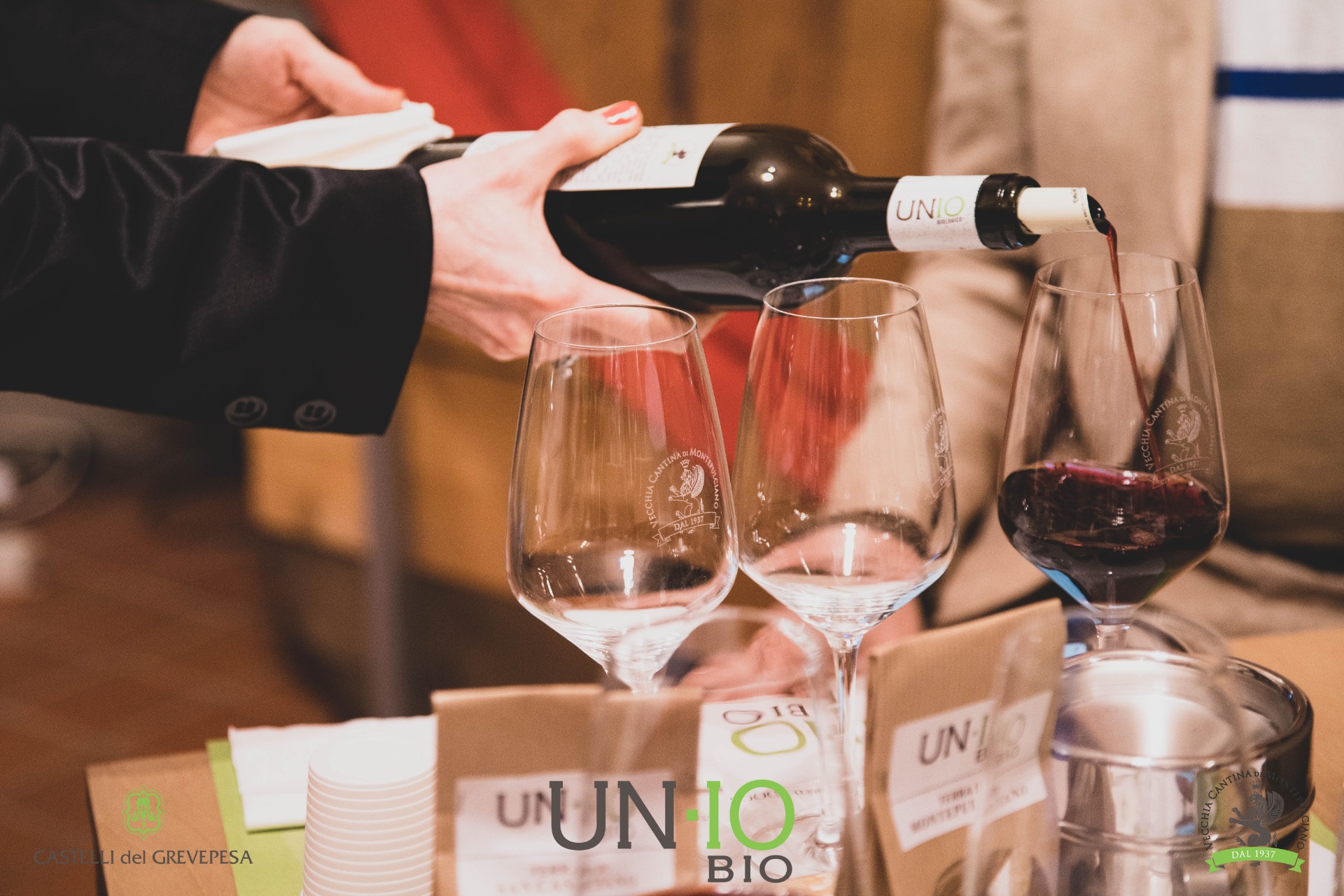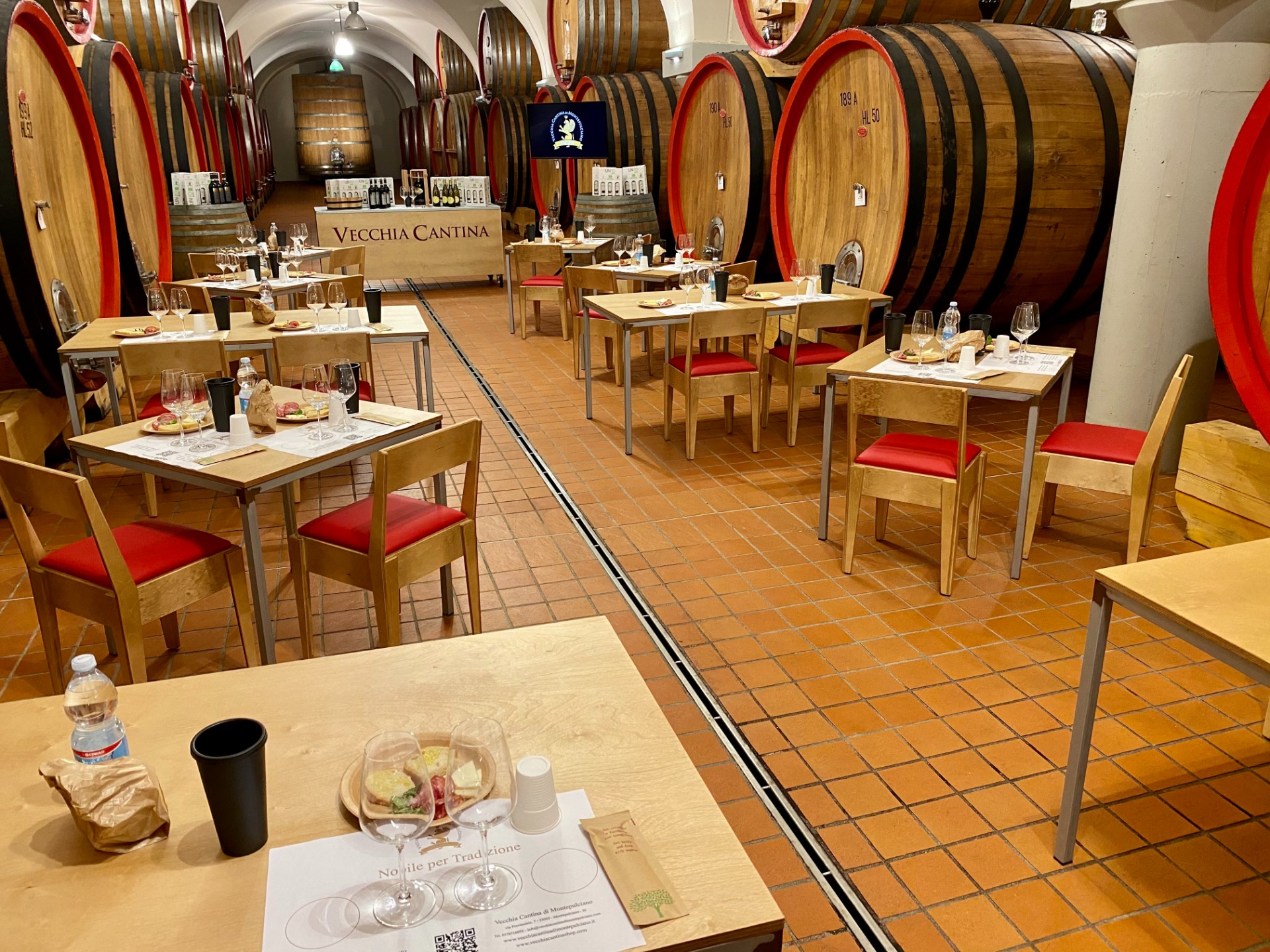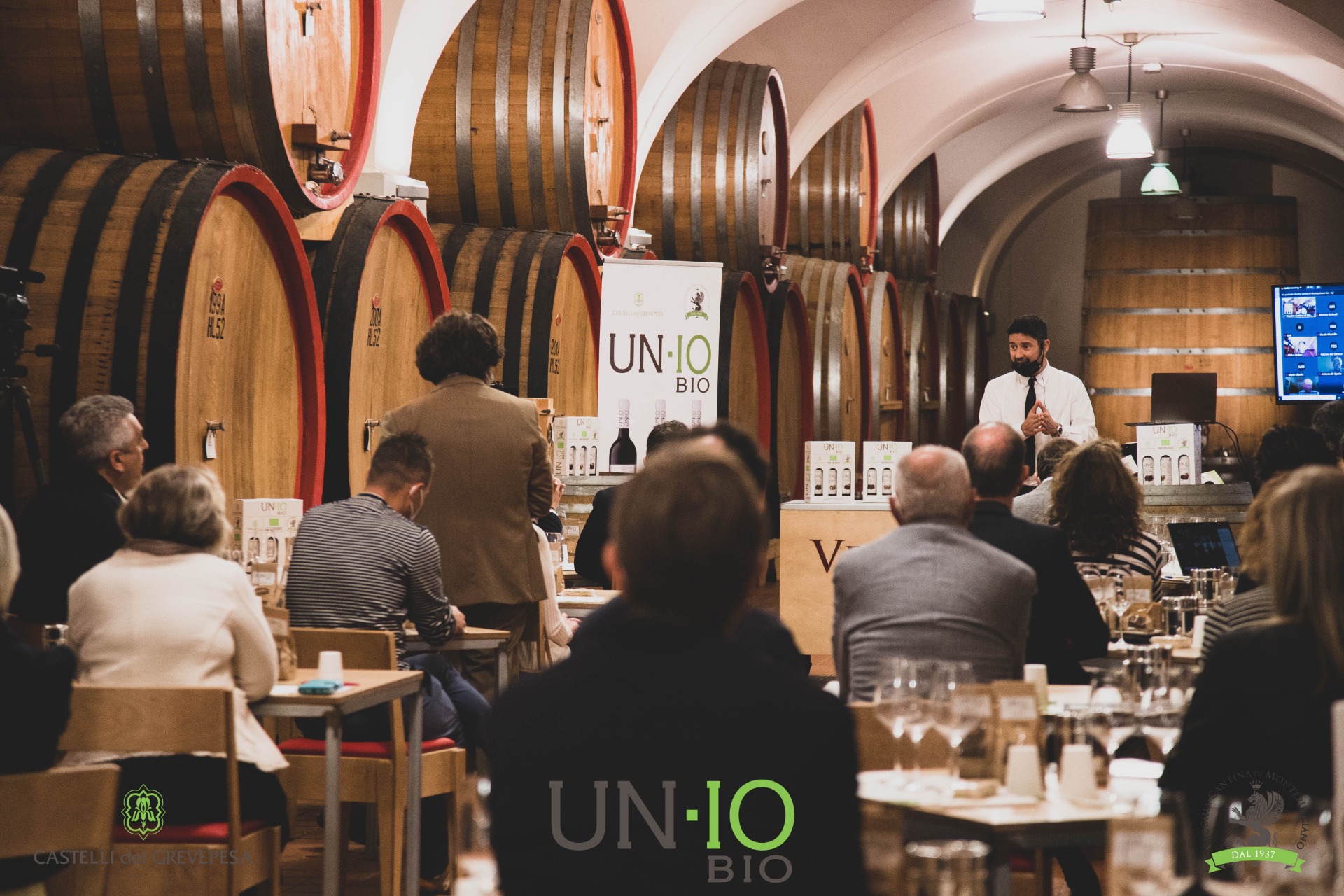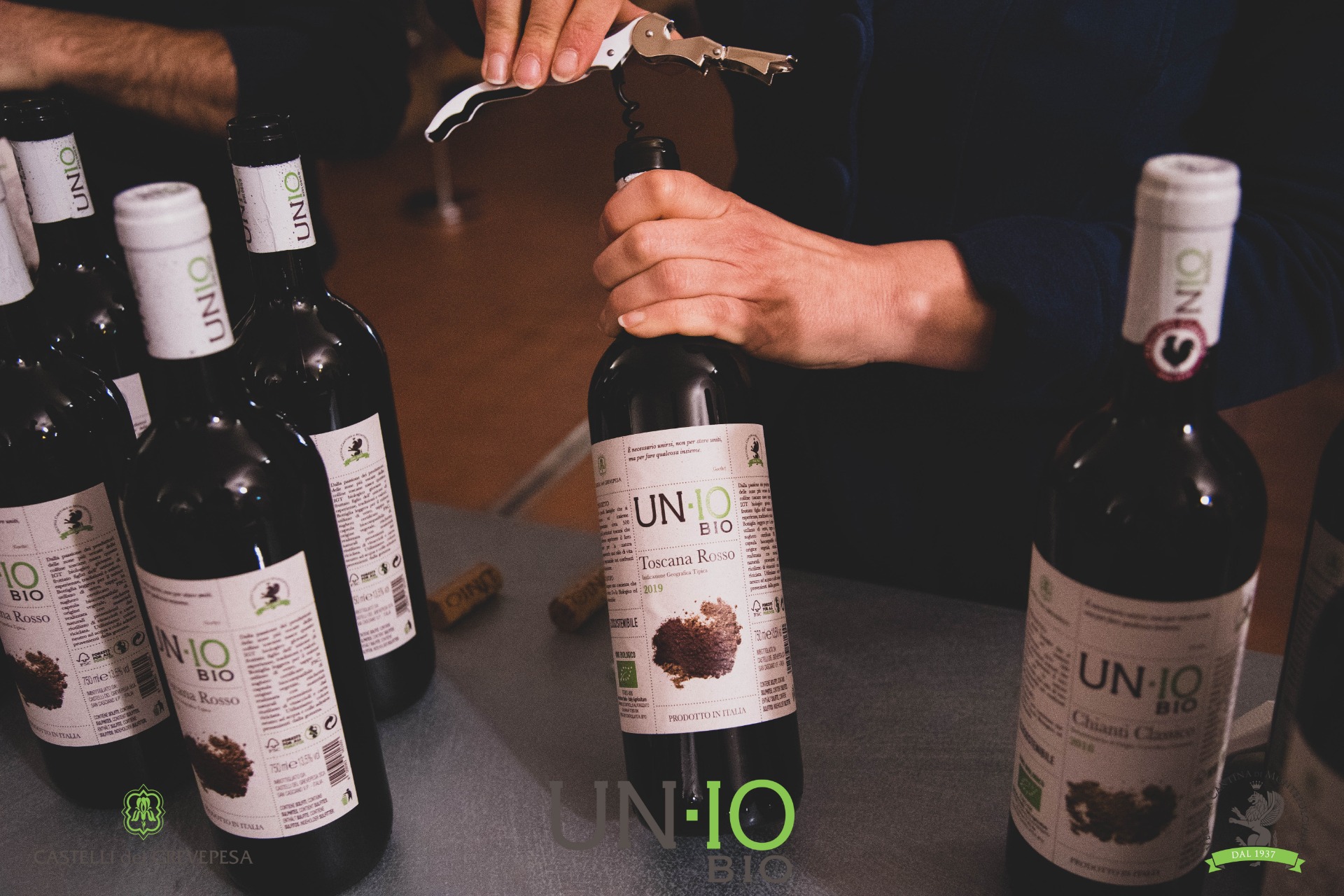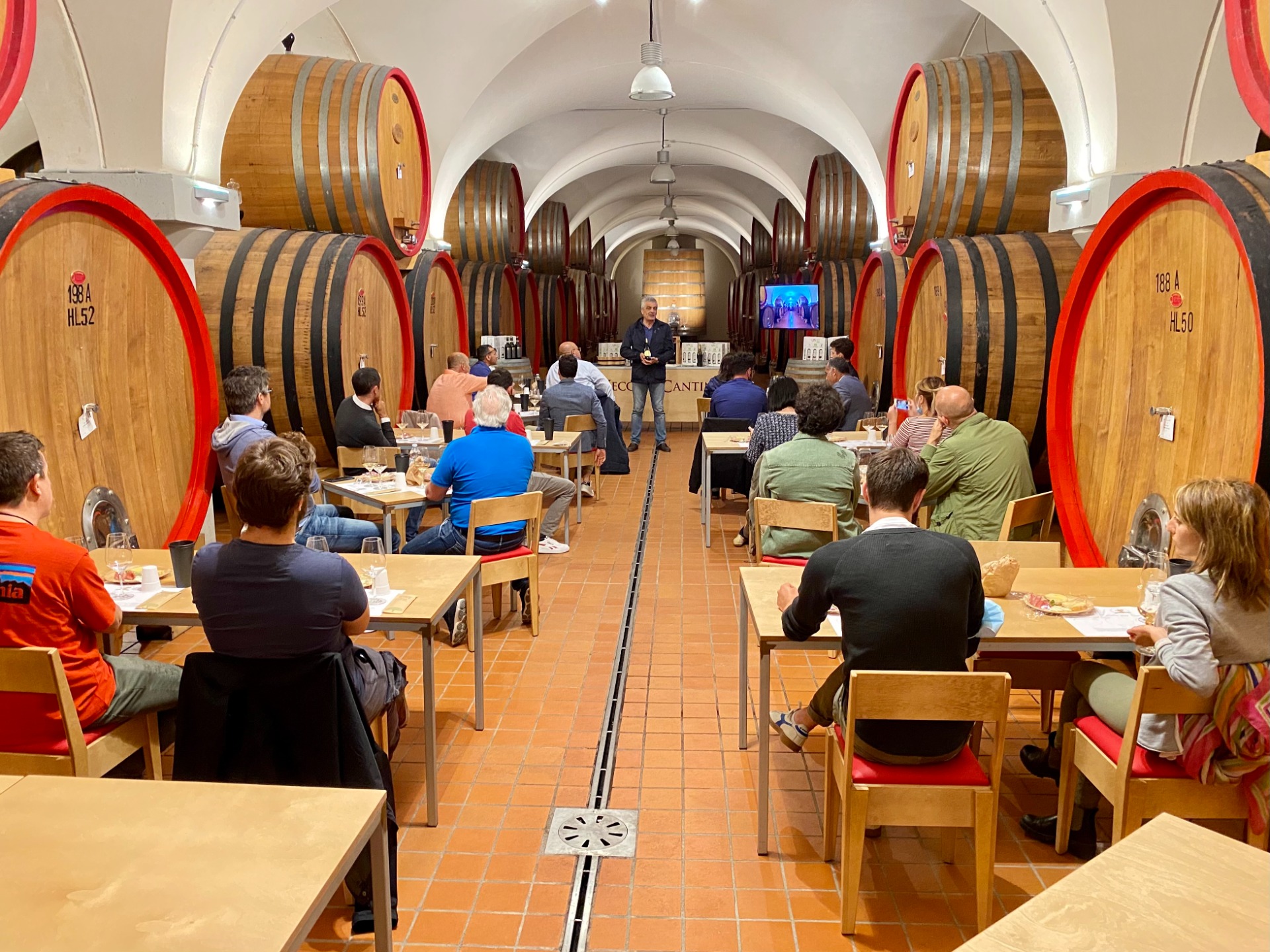 TASTINGS
The cost of the tour varies according to the type of tasting included. Five proposals:
CLASSIC TOUR – Wine and Oil
The typical Poliziano pairing!

2 "Cantina del Redi" wines with Bruschetta with EVO oil
Vino Nobile di Montepulciano DOCG
Rosso di Montepulciano DOC
(available for groups over 10 people)
Wine and cheese
Everything from the "Cantina del Redi" selection to taste the "tradition".

3 wines with Bruschetta with EVO oil, Pecorino di Pienza cheese and honey with saffron
Riccio – Bianco Toscana IGT
Rosso di Montepulciano DOC
"Briareo" Vino Nobile Riserva DOCG
Everything from the Cantina del Redi selection to taste the "tradition".
(available for groups over 10 people)
Wine, oil and typical products
Cantina del Redi wine selection with the novelty of "ARGO" and the inevitable Vinsanto!

4 wines with Bruschetta with EVO oil, typical cold cuts, Pecorino di Pienza cheese and blueberry jam, Cantucci Toscani
Riccio – Bianco Toscana IGT
Rosso di Montepulciano DOC
"ARGO" Vino Nobile di Montepulciano Selection DOCG
Vinsanto di Montepulciano DOC
3 organic wines accompanied by organic products of our members
A meeting between two historic Tuscan cooperatives to give life to an organic and sustainable project. To try!


Nobile di Montepulciano DOCG UN-IO Bio – Old Cellar
Chianti Classico DOCG UN-IO Bio – Castelli del Grevepesa
Toscana IGT 50 + 50 (Sangiovese from the 2 cellars)
FULL IMMERSION VINO NOBILE
4 Wines with Pecorino di Pienza aged cheese
For connoisseurs!

It is a true full immersion in our world to understand the characteristics of the Vino Nobile di Montepulciano, discovering it through different vintages and different styles.
3 Vino Nobile vintage and 1 Vino Nobile Riserva will be served.
Opening Hours
Visits usually take place from Monday to Friday at 10.30 am and 3.30 pm, and on Saturdays and Sundays by specific request.
The visit lasts about an hour but may take longer in the case of particularly large groups.
Recommendations
The itinerary has architectural barriers, making access by wheelchairs, pushchairs and other mobile aids with wheels impossible.
For reasons of hygiene, animals are not allowed in the cellars.
To better preserve our wines, the temperature inside the cellars is about 16°C, so we suggest that you wear clothes suitable for this temperature and, in summer, that you bring something warm to put on.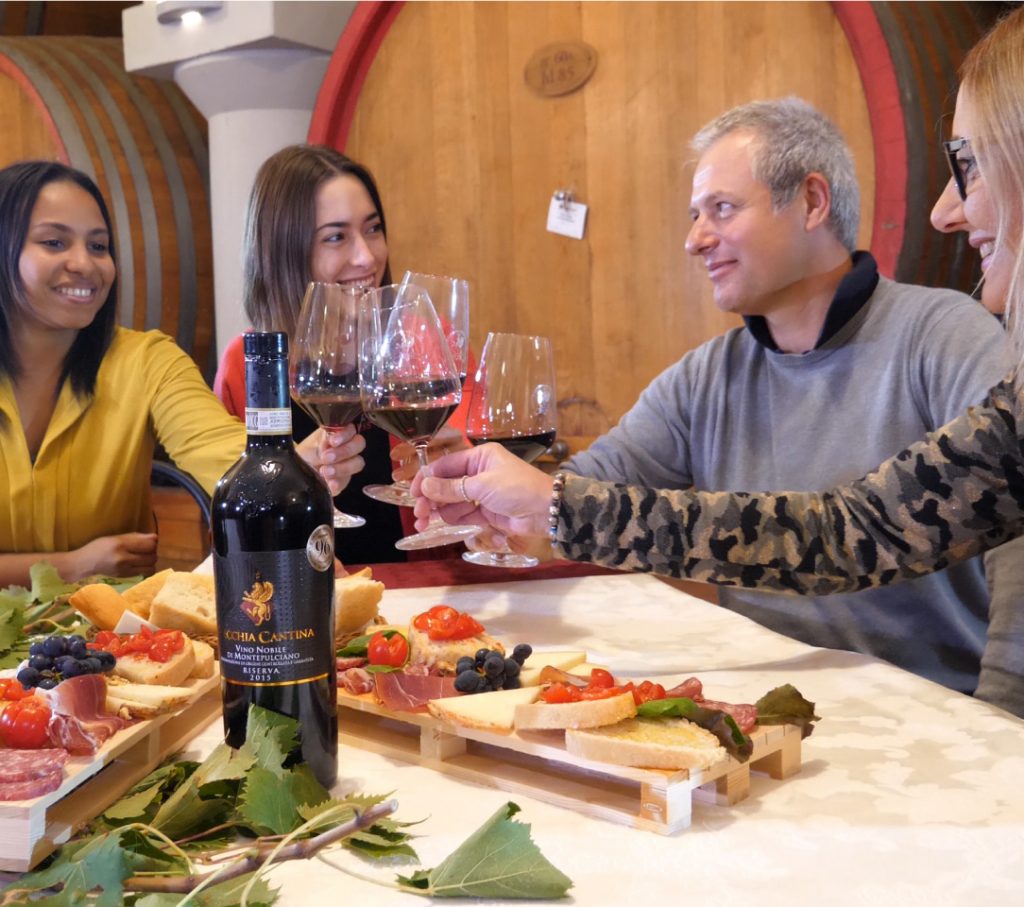 For informations and bookings:

THE TERRITORY
Montepulciano is a delightful renaissance village in the province of Siena, certified by the Touring Club with the Orange Flag, the tourism-environmental quality mark. In 2018, Forbes included Montepulciano among the must-see Italian destinations for fans of food and wine tourism which combine places of charm, breathtaking landscapes and excellent wines.
Perched on top of a hill from which you can admire a splendid view of the Val di Chiana and Val d'Orcia, Montepulciano is a place that deserves to be visited all year round, as well as being the ideal place from which to discover the part of Tuscany considered to be one of the finest wine regions in the world.
To Visit
The elegant buildings, ancient churches, splendid squares and exquisite views that characterise the town centre make Montepulciano a veritable open-air museum, so much so that it has been nicknamed the "Pearl of the 16th century" for its extraordinary cultural and architectural heritage. It is no coincidence that it has been chosen as the set for numerous films including "The Devil in Love" by Ettore Scola, "The English Patient" by Anthony Minghella and, more recently, for "New Moon" in the "Twilight" saga, with scenes filmed between the main square, Palazzo Comunale and what was once Cantina del Redi.
The historical part of town develops around the main street, "Il Corso", which, with its historic buildings and craft workshops, links the lower part of the town, from Porta al Prato, to the top of the hill, where Piazza Grande, which hosts numerous cultural events of national and international importance, is located.
Along the way, it is worth stopping to admire the famous Torre dell'Orologio, the clock tower featuring the figure of Pulcinella, which marks time for the townspeople and for the many tourists who immortalise it in their photos every year.
Visitors to the Piazza can admire Palazzo Comunale, with its tower and crenellations, reminiscent of those of Palazzo della Signoria in Florence, and the Duomo, dating back to the end of the 16th century, with its large unfinished façade and the extraordinary works that it houses, like the triptych of the Assumption by Taddeo di Bartolo.
Immediately outside the city walls are the Church of Sant'Agnese with its original Gothic gate and Viviani's balzana façade, the Medici Fortress by Antonio da Sangallo the Elder, the 14th century gate by Gracciano, restored by Sangallo at the beginning of the 16th century, and the temple of the Madonna di San Biagio, another masterpiece by Sangallo, which became a source of inspiration for Michelangelo for his work on St. Peter's Basilica in Rome.
Museums worth visiting are the Museo Civico Pinacoteca Crociani, where, together with numerous archaeological finds, there are over two hundred authentic masterpieces, including a portrait recently attributed to Caravaggio, and the Museo della Tortura Palazzo Bellarmino.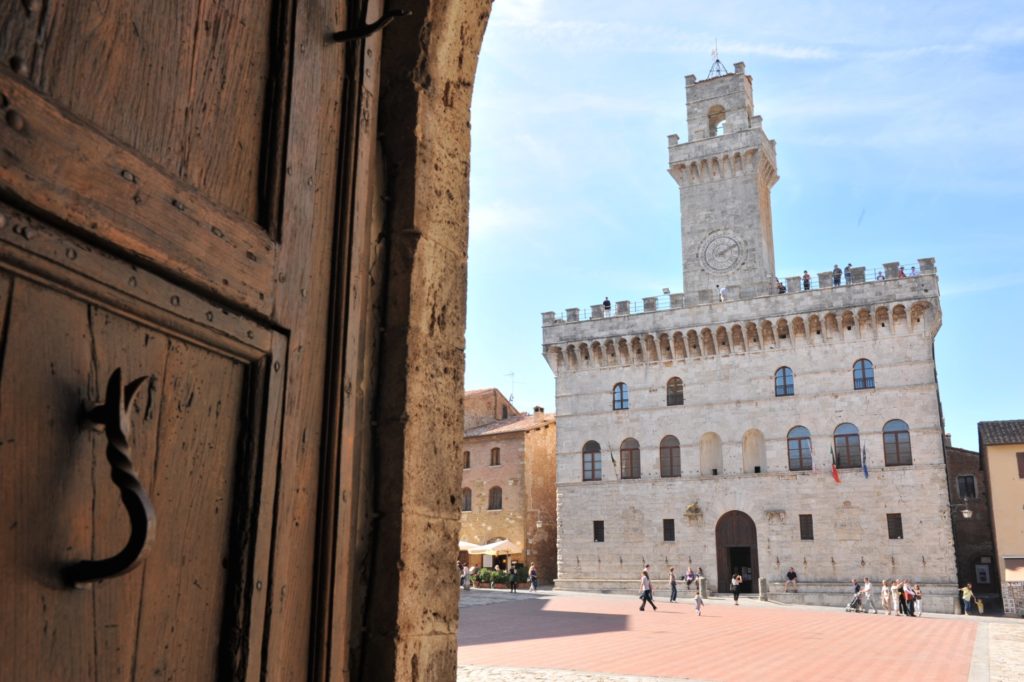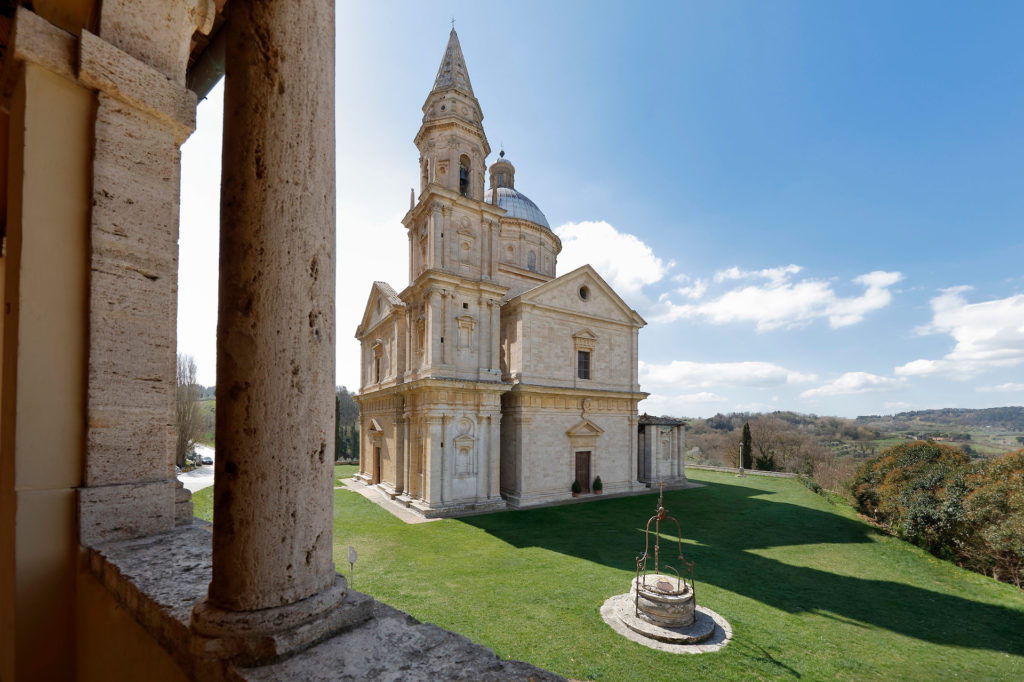 To Taste
Montepulciano is the land of Nobile DOCG and Rosso di Montepulciano DOC, Vin Santo, Chianti Colli Senesi and Bianco Vergine Val di Chiana.
Nobile is the ideal wine to accompany the local cuisine, which offers simple but robust and tasty products and dishes: ham, Cinta Senese charcuterie, barbecued Chianina steak, delicious toast with spleen and livers, pansanto made with bread, beans and extra virgin olive oil, often eaten during Lent, and crispy bruschetta.
The area's typical pasta dish is pici: handmade spaghetti served with meat sauce. Also worth trying are pappardelle with a sauce made of hare or wild boar, bread soup, grilled porcini mushrooms served with ciaccia, flattened bread dough seasoned with oil, or fresh bread, strictly without salt to give way to all the other flavours.
Desserts worth mentioning include the famous cantucci, the almond biscuits that are so perfect for dipping in Vinsanto.
You can taste all these delicacies in an elegant restaurant or a typical trattoria in the heart of the village, or perhaps an agriturismo in the local countryside.